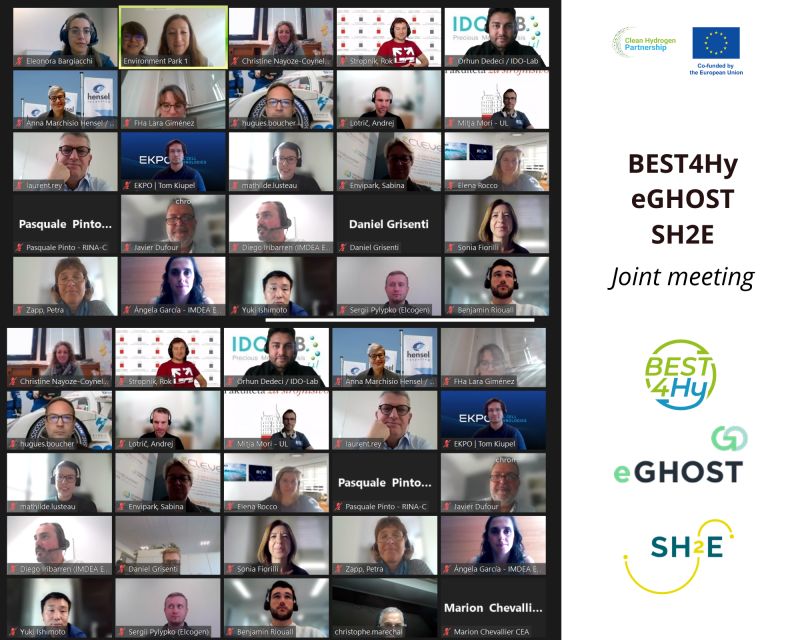 SH2E challenges and progress were shown at the last meeting
SH2E challenges and progress were shown at the last meeting.
Last Friday, 14th October, an online joint follow-up meeting of the three projects Best4Hy, SH2E and eGHOST took place to join synergies and put together common points based on sustainability and Hydrogen.
Around 50 specialists and representatives of all companies and institutions collaborating on three projects joined the meeting to learn about the status and progress of the milestones achieved in the projects.
Likewise, the following steps and pending challenges to integrating eco-design in the FCH products in the European Hydrogen sector were on the table.
The SH2E project pursues to develop and demonstrate specific guidance for the environmental (LCA), economic (LCC) and social (SLCA) life cycle assessment. A benchmarking of FCH systems while addressing their consistent integration into strong FCH LCSA guidelines.
These guidelines developed aim to be globally accepted as the reference document for LCSA of FCH systems, setting the basis for future standardisation. These will allow beyond updating past initiatives such as the FC-HyGuide project and the IEA Hydrogen Task 36.
Whereas the Best4Hy project is focused on the development and validation of existing and novel recycling processes for two essential fuel cell and hydrogen products: proton exchange membrane fuel cells (PEM FC) and solid oxide cells (SOC), including both fuel cells (SOFC) and electrolysis cells (SOEC).
If you want to know more about these projects, we invite you to visit their website, where you will find more information about them.
SH2E project: sh2e.eu/
Best4Hy project: best4hy-project.eu
We look forward to communicating much more news like this, where we can share our progress towards our common goal of progressing towards sustainable hydrogen technology.